Description
Make any position easier and more relaxed with this inflatable cushion. The slanted design and flocked surface allow you to maintain any position longer without sliding off. It lets you maintain any position without breaking your rhythm. Inflating and deflating are easy with the air-sealed valve, and its discreet enough for home use or romantic getaways.
It's a lovely addition to your bedroom when it's not in your suitcase. It's made of high-density inflatable silicone so that it keeps its shape even with lots of weight on top of it, and it fits underneath your lower back, facilitating deep penetration and oral sex that's comfortable for both partners.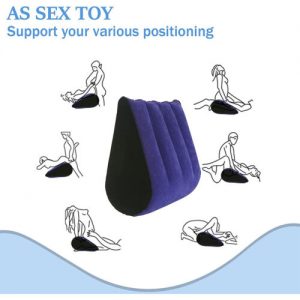 It helps hit the spot if the positions you enjoy put too much pressure on your joints, or are just uncomfortable (maybe if your partner is much taller or shorter than you are). The double-arched design provides that extra support for your head, back, and knees during, say, missionary position.
It's simple, no-fuss, and you can easily travel with it. Get yourself an inflatable position pillow. What people love most about this one is that if you're trying doggy-style or anal sex, the inflatable wedge helps lift and position you at the perfect angle. "If you have a back-facing vulva or you are a person who enjoys anal penetration, this pillow is great to get those holes in the air!"
Not only is it comfortable, but it's cost-effective and it can deflate so that you can put it away in a discreet place.