Imagine a Wand.
Now imagine a Wand with a tongue.
Now Imagine  a Wand that sucks.
Now imagine a Wand that heads up on the head.
All features have 12 different frequencies.
Let your flower bloom. The soft curves of the Automatic Vibrating Rechargeable Pussy wand hug your sensitive areas with smooth silicone for a high-end sensual experience. 12 pumping speeds and 12 vibration modes empower you to customize your pleasure every time, while powerful suction keeps your hands free to play once the optimal seal is formed. Enjoy stronger orgasms with the heightened sensitivity and arousal that pumping inspires, and watch the incredible visual results in real time through the pump's transparent cup.
Additional features including an instant air release button, power locking feature, and USB charging ensure that your pump play is always safe and worry-free.
We believe in products designed with the human touch in mind. Our craft is in modernizing the industry through attention to the details that matter, creating an experience that stays with you long after it's gone.
That's why we're proud to introduce the 3 in 1 Body Massager: a generational game changer that displaces traditional products with upgraded thoughtful technology and superior sleek form. With 3 speed functions and 12 distinct vibrating patterns on both ends, the Threesome Massager offers a wide array of combinations to satisfy each and every one of your needs.
The large head allows for wide – reaching relief, while the other end is designed for targeted stimulation. The Threesome Massager also offers a heated head – perfect for turning up the heat in your most intimate moments.
Full instructions for enjoyment and maintenance of your pussy pump are included on illustration below.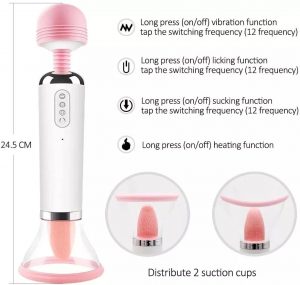 Make sure you use the heating feature for added pleasure.