Choosing the right vibrator will always be primarily about personal preferences. But there are some questions you can ask yourself before you choose a vibrator that will help reduce the risk of choosing one that you'll use once and then will forever collect dust in your sock drawer.
How do you want to use your vibrator: external clitoral stimulation, penetration, or both?
What should your vibrator be made out of, and what safety concerns are there about materials?
How strong a vibrator should you buy: mild to super strong, single speed or variable?
How much do you want to spend on a vibrator: 1000 Shillings or 15000, the selection is out there for every budget?
What do you want your vibrator to look like?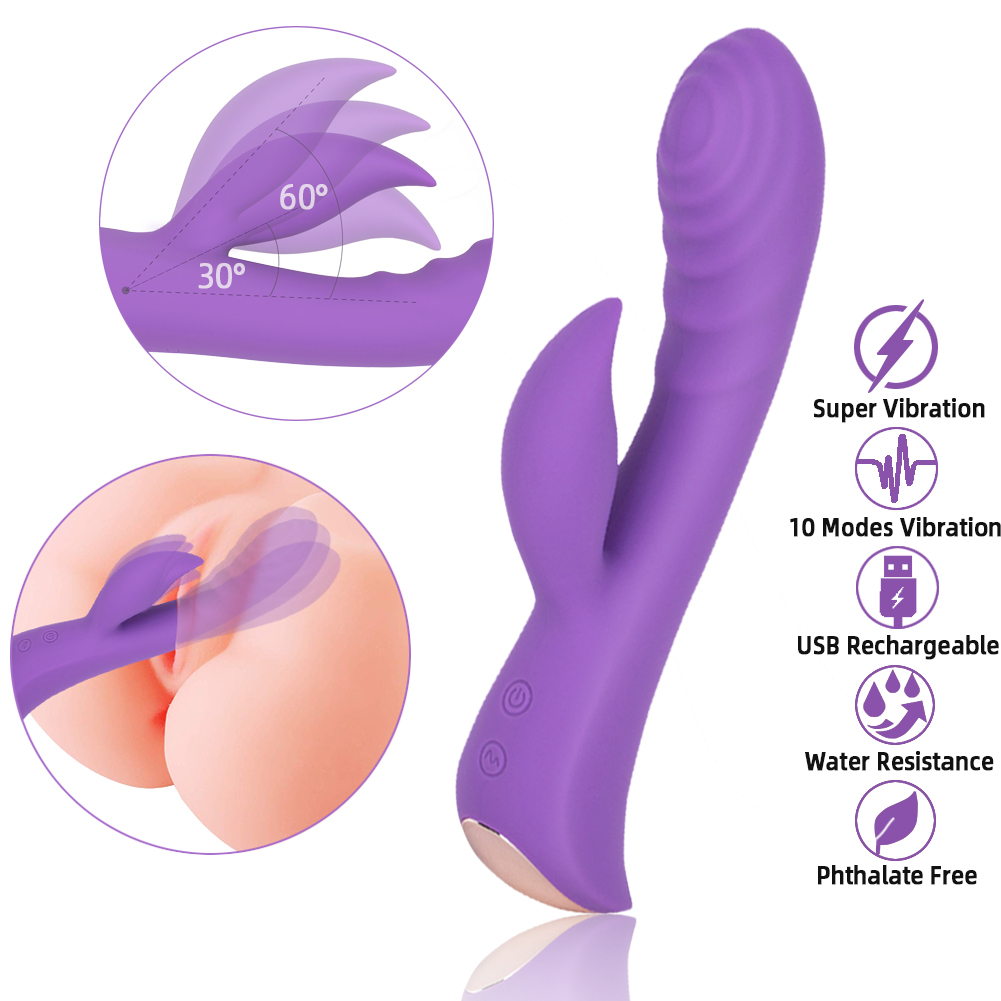 VIBRATORS FOR EXTERNAL AND CLITORAL STIMULATION
While the majority of vibrators are phallic shaped most people use vibrators for external stimulation. If you're looking for a vibrator for external stimulation only, you should consider buying a hard vibrator.
Hard and Plastic vibrators:
tend to be stronger
are easier to clean
don't bend when you press them against your body allowing you to better adjust the pressure of the vibrator
External hard plastic vibrators can be small bullet or egg style vibrators, or longer wand style vibrators.. They may be battery powered or electric (plug-in) vibrators.
The main differences between vibrators for external stimulation are:
the strength and quality of the motor
the type of vibration (there is buzzing, thumping, rotating, pulsating, and more)
the texture of the vibrator (ridges, bumps, smooth)
shape, size and color
If this is your first vibrator it is probably best to choose one with variable speeds.
VIBRATORS FOR PENETRATION
While most people use vibrators for external stimulation others love the feeling of a vibrator for penetration. More people choose soft rubber vibrators for penetration, as they find hard plastic vibrators too jarring. But there are no rules to buying the right vibrator, and as long a vibrator is safe for penetration (no sharp edges) then you can use a hard or soft vibrator for penetration.
More and more vibrators for penetration are designed for g-spot stimulation. These vibrators will have a curve near the tip, which makes it easier to stimulate the g-spot as soft rubber toys can bend when inserted into the vagina. G-spot vibrators can also be used to stimulate the prostate in men, provided they are safe for anal use.
Aside from g-spot vibrators, vibrators designed for penetration differ mainly in:
their size
the material they are made of: jelly rubber, silicone, cyberskin or vinyl
the strength and quality of the motor
the type of vibration (buzzing, thumping, rotating, pulsating, and more)
whether it is single speed of multi-speed, and what type of switch is used to adjust the speed
Most of these differences can be decided based on personal preference, but if this is your first vibrator be sure not to pick something too big, and to choose one that has variable speed.
If you are concerned about the safety of sex toy materials, you can either stick with silicone or hard plastic, or if buying a less expensive rubber vibrator, be sure to use condoms each time you use the vibrator.
VIBRATORS FOR PENETRATION AND EXTERNAL STIMULATION
If this is your first vibrator, or if you are looking for something versatile, you may want to choose a vibrator that can be used for both penetration and external stimulation. There are two styles of vibrator that can be used for both.
The first are straight/cylindrical vibrators that have motors near the tip of the vibrator can be good for both penetration and external stimulation. Vibrators made primarily for penetration will often have motors in the base, and these are more awkward and not that functional to use it for external stimulation. If the motor is near the tip you can easily use it for external stimulation and know exactly where the vibration is strongest in the body of the vibrator.
The second type of vibrator that can be used for both penetration and external stimulation are dual action vibrators which are made for simultaneous penetration and clitoral stimulation. The most popular of these vibrators is the famous Rabbit , but there are hundreds of variations on this style.
Because dual action vibrators aka Rabbit Vibrators only do one thing (but do it very well) they may not be the best first time vibrator. But if you're looking for something different, or like the idea of both penetration and clitoral stimulation, they're worth checking out. Make sure you know whether your dual action vibrator has a Japanese motor or not. Many sextoy shops overcharge for poor quality vibrators to take advantage of the fact that most people think dual action means better quality. This is not always the case.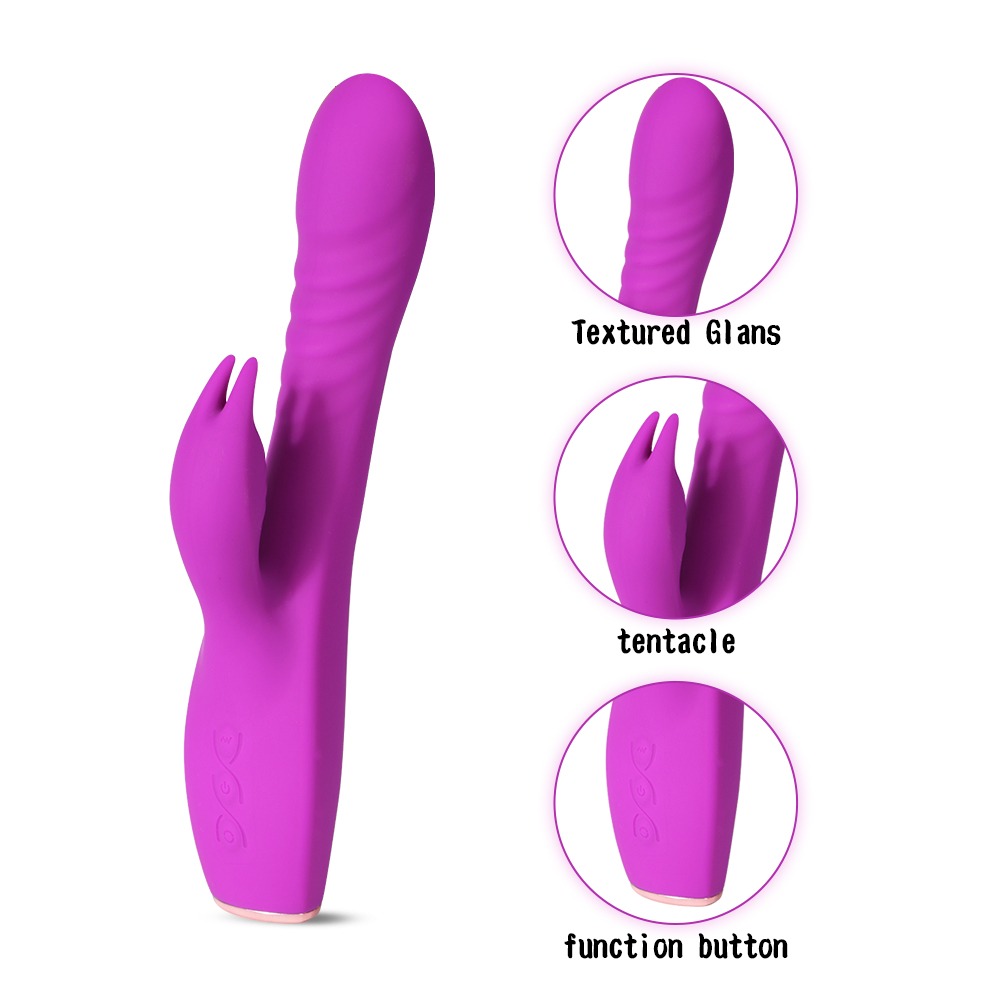 SOFT RUBBER VIBRATORS
Soft rubber vibrators, which most people choose for penetration can be made of a variety of materials: silicone, jelly rubber, cyberskin, vinyl, and all manner of silicone/jelly mixes. One of the benefits of any soft rubber vibrator is that it will be quieter than hard plastic, and if you drop it, it's less likely to crack.
Silicone is the best quality material for a soft rubber vibrator; it is the cleanest and safest material, it transmits vibrations best (so the motor will feel stronger), it is easiest to clean, and it retains temperature better than other rubbers. The only drawback to silicone is the cost. Also you cannot use silicone based lubricants with a silicone vibrator. Always use water based Lube like KY jelly.
Currently most jelly rubber vibrators contain phthalates and should always be used with condoms. These along with latex vibrators, which are usually filled with foam, absorb vibrations a bit more, so they tend to be milder than silicone or hard plastic. The main benefit of these vibrators is their inexpensive price.
There are some vibrators that have a hard plastic shell which is then covered in a softer material like silicone or jelly rubber. These vibrators often have the benefit of strength with the softer feel which some people prefer.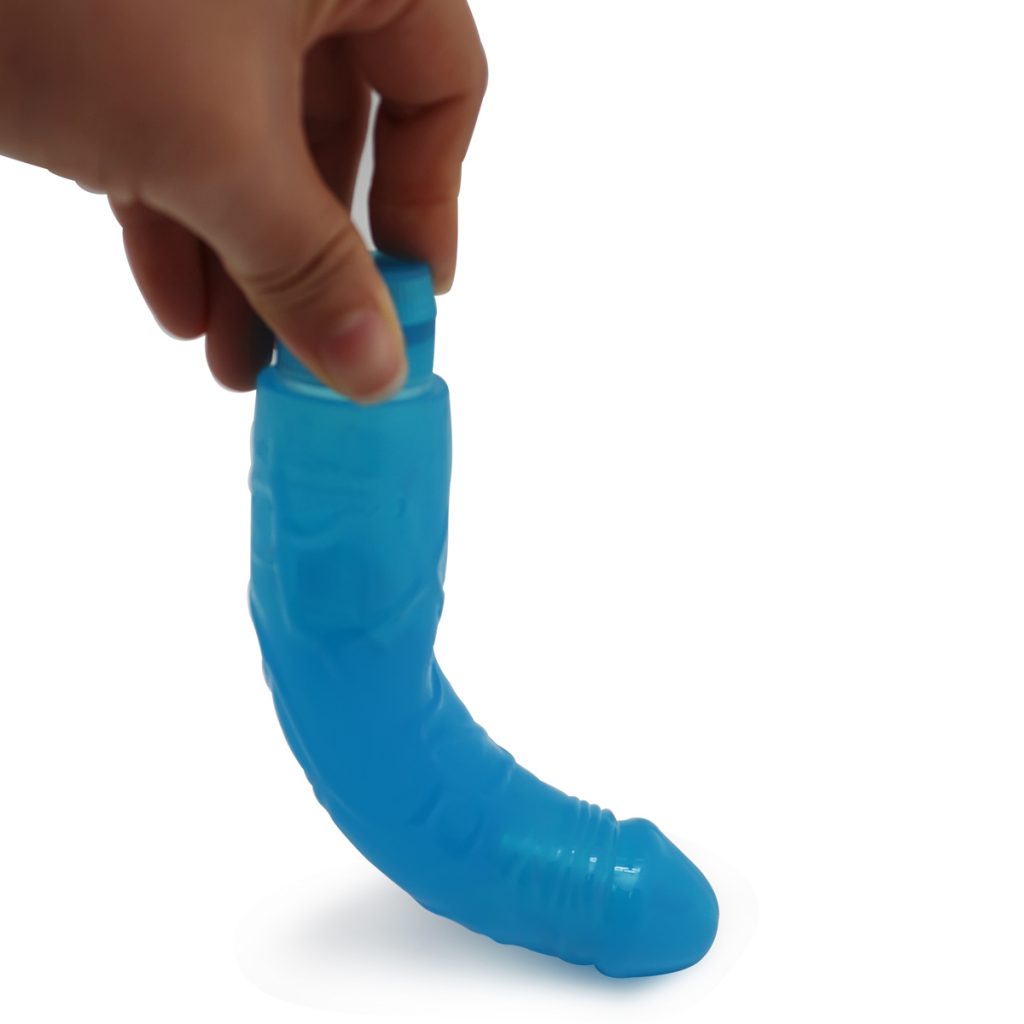 HARD PLASTIC AND METAL VIBRATORS
Hard plastic vibrators are ideal for external stimulation, and as long as they are seamless and have no rough edges or corners, they can also be used for penetration. Some of the benefits of hard plastic vibrators include:
stronger feeling vibration
easier to keep clean
less likely to cause an allergic reaction
they don't bend when you are applying pressure with your vibrator
There are a few vibrators that are made out of various metals, including gold, titanium, and aluminium. These vibrators have several additional benefits. They have a weight to them which can be very pleasurable when used for penetration, and the material makes the vibration resonate in a different fashion, which is noticeable when using it. Metal toys also cool down and warm up, adding another element to the sensation. These natural materials are also very safe and clean, and easy to keep clean.
If this is your first vibrator, and you're looking for something to use externally for clitoral stimulation, hard plastic might be the way to go. Metal vibrators, while highly prized, do tend to be more expensive and may not be a great idea for first timers.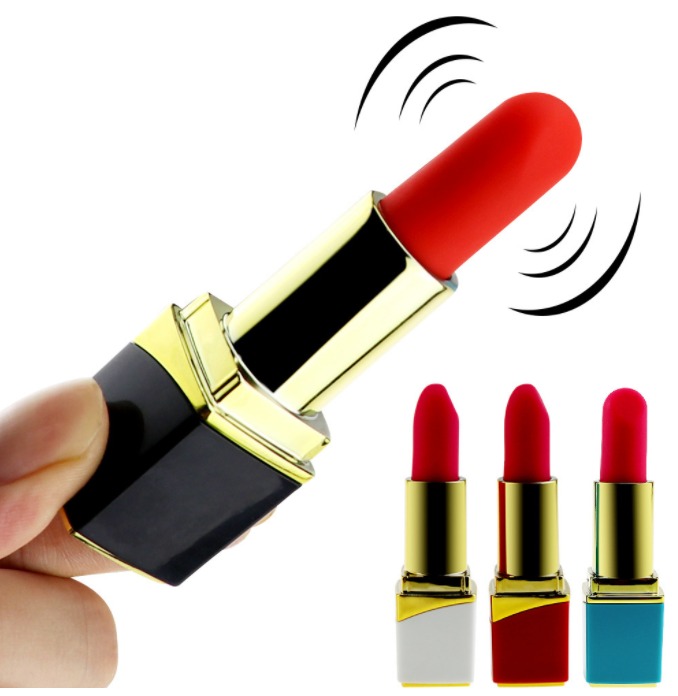 HOW STRONG SHOULD YOUR VIBRATOR BE?
Vibrators come in a wide range of strengths, from mild to supersonic. If you are buying your first vibrator what is most important is to get a vibrator that has variable speeds. Here are some things to consider in terms of vibrator strength.
In almost all cases electric vibrators (whether they plug in or are rechargeable) are more powerful than battery vibrators. Particularly if you are looking for a vibrator that you can also use as a full body massager, electric vibrators, like the famous Hitachi Magic Wand, are the way to go. Most electric vibrators have two speeds, and the only concern can be that at the lowest speed an electric vibrator may be too strong.
Battery powered vibrators offer a wider range of strengths of vibration. With battery powered vibrators another consideration is the size of the vibrator. Smaller vibrators can feel stronger because the point of vibration is more focused and not being dispersed across a long area.
Hard plastic vibrators usually feel stronger than soft rubber vibrators; even if they have the same size motor and take the same number of batteries.
The best vibrator will be one that goes as low as you need it to for starters, but is stronger than you're comfortable with as well. Many people find once they get comfortable with vibrator that they enjoy somewhat stronger vibrations. Of course there are others who only like mild vibration. As with everything this is a personal preference.
INEXPENSIVE VIBRATORS
Vibrators are not quite as sophisticated a market as cars or photographic equipment, so judging the quality range and price range is a bit more of a gamble. However as a general rule one can identify three levels of quality and price for vibrators.
The least expensive vibrators range in price from 1000 to 4000 Shillings. These generally have inexpensive Chinese motors, are made of hard plastic or jelly rubber , and are built to not last.
Mid-range vibrators can cost between 5000-7000 and are either made of a better quality material or have better quality motors, but usually not both. For example a silicone vibrator with a less expensive motor, like the ones made by Fun Factory.
High end vibrators combine the best of all worlds; quality motors, material, and design. These can range in price from 8000- 15000.
Keep in mind that less expensive doesn't necessarily mean it won't feel as good, it usually means the vibrator won't last long, and the material may be inferior quality. But don't let a store or website pressure you into paying more for a vibrator than you want. If you don't know what you're looking for, it's always safer to start inexpensive (remember to use condoms on any inexpensive soft rubber vibrators) and then once you know whether you like vibration or not, you can invest in the future.
LUXURY VIBRATORS
If you know what you like in terms of function, material, and strength of vibration, and you have the budget for it, high quality vibrators are well worth the money. There are several elements that can make a vibrator high quality.
Material: If the vibrator is made of 100% silicone or elastomers , it is better quality and you're less likely to react to it. If it's made of a natural metal, or high quality plastic you are also less likely to have a reaction.
Quality of motor: As a generality, Japanese motors in vibrators tend to be better quality. It can be difficult to know if a product that says Japanese on it really is, or even if it really has a Japanese motor. If you are purchasing from established and trusted companies like www.gspotkenya.com, you can be sure that what it says on the package is what's inside the vibrator.
Design: Small companies that are run by people who actually use sex toys often will come up with more functional designs. They may still make a well designed toy that won't last very long, but the smaller outfits tend to stick to high quality across the board.
WHAT DO YOU WANT YOUR VIBRATOR TO LOOK LIKE?
A final, but not unimportant consideration is what you want your vibrator to look like. Other than shape and texture, do you want something that looks like a penis? Something that looks like a bunny rabbit, or a goddess? And what about the color? Many people think it's strange to care about vibrator color, but other pick sex toys to match their sheets or their mood. And there's no right or wrong. Vibrators come in every look imaginable, so even if you'd like something that is vaguely phallic shaped, but not all veiny and "representational" you'll find something.
If you're going to use the vibrator with a partner you might want to consider what they'll be most comfortable with, and most excited by. Some people are intimidated by toys that look like recognizable body parts, whereas others are turned on by them.
There are also all sorts of vibrators that don't look like vibrators at all, and these can be a benefit for people with kids, or roommates, and little privacy.
Ask Bev, The Vibrating Lawyer for a recommendation before making a purchase.